Vafler – The Best Norwegian Waffles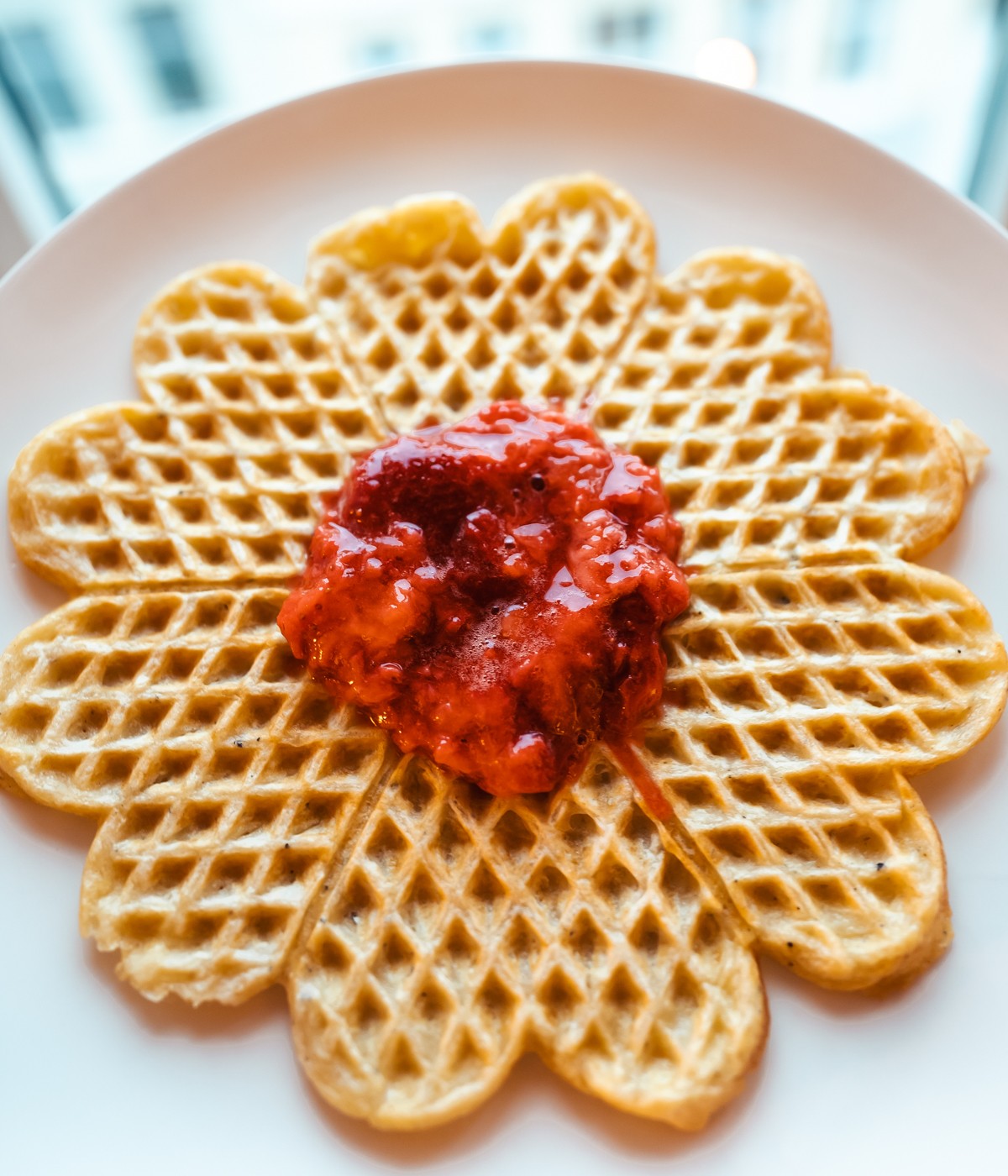 I grew up in the US, but my mother is Norwegian so my family would often spend our summer vacation in Norway, which I loved.
Well of course I loved it, because I eventually moved to Norway. I loved the mountains, I loved the fjords, I loved my grandparents' dog Petrushka, but most of all I loved the waffles. In fact if you took away the mountains, fjords, and dog, I think Norway might still have been my favorite place in the world for the waffles alone.
Am I exaggerating? Try these waffles and decide for yourself.
But first, you will need a Norwegian waffle iron, like this one, for these. The cute thing about Norwegian waffles is that they're heart shaped! I can assure you you'll get a lot of use out of your Norwegian waffle iron. I think a waffle iron was the very first thing I bought for my kitchen when I moved to Norway. I bought one even before I had a toaster – and then proceeded to use it to toast bread for a good six months. It worked!
There are a few secrets to making perfect Norwegian vafler.
First, the batter needs to be quite thin! Norwegian waffle batter is a lot thinner than Belgian waffle or American pancake batter. You want to be able to drink it like eggnog (but don't actually drink it).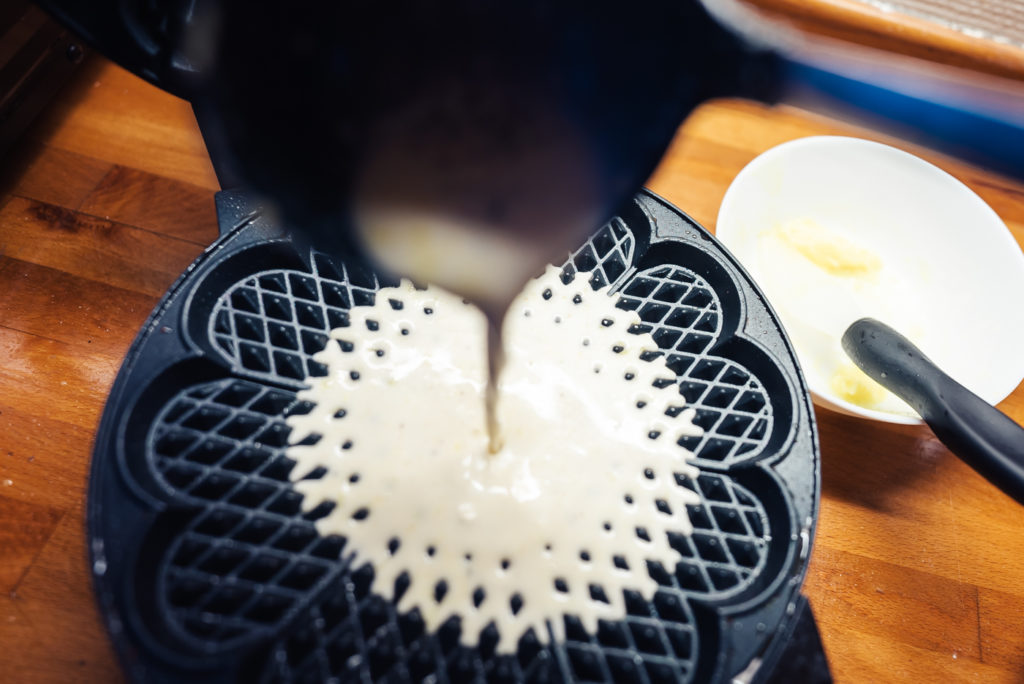 Second, you don't want to add too much sugar. These should only lightly be sweetened, if at all.
You can use ground cardamom for this recipe, but if you have a mortar and pestal I highly recommend grinding cardamom seeds instead, as freshly ground seeds are much more flavorful. I wouldn't bother unless it really made a difference, but it really does.
Pre ground cardamom really doesn't have much flavor, so if you do use it, I would probably double the amount of cardamom.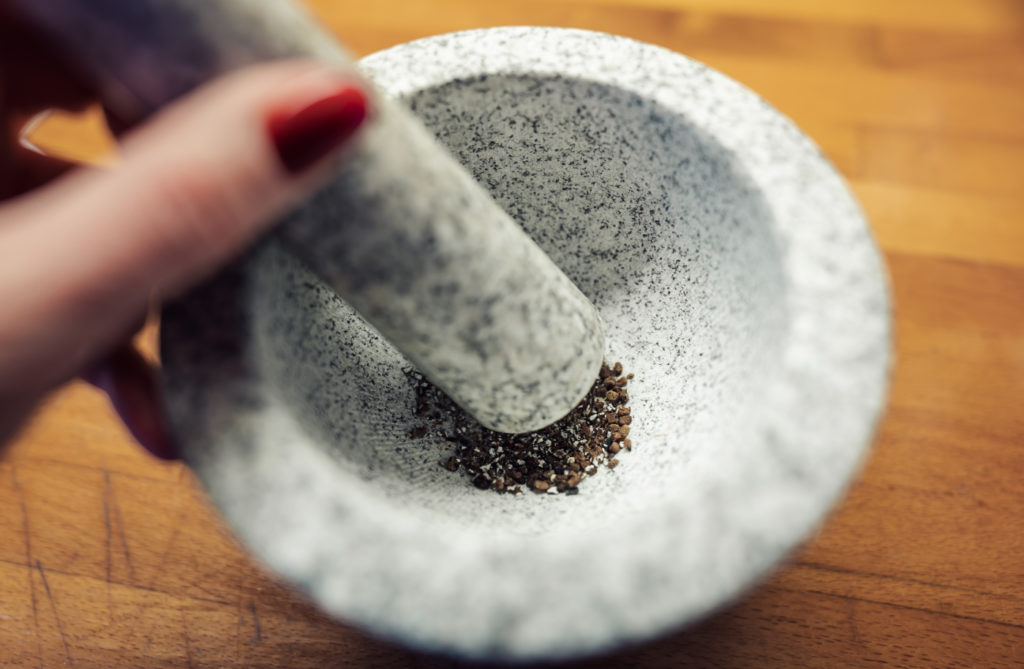 Also feel free to add any leftover dairy products you have in your fridge, like sour cream, heavy cream, or creme fraiche. The most important thing here is the consistency – just make sure the batter isn't too thick. In fact I usually don't use a recipe when i make these – I just add whatever I have in my fridge until it looks like waffle batter.
Norwegians put all sorts of things on their waffles. Most common topping include brown cheese, strawberry jam (sometimes with some sour cream) or even just plain butter. Or they'll make savory waffles without sugar and add normal sandwich toppings like ham, cheese, or smoked salmon. The options are endless.
I prefer to top my waffles with crushed strawberries instead of strawberry jam. In the summer I'll mash some fresh strawberries, when they're in season, sometimes adding a bit of sugar, and in the winter I'll defrost and mash frozen strawberries.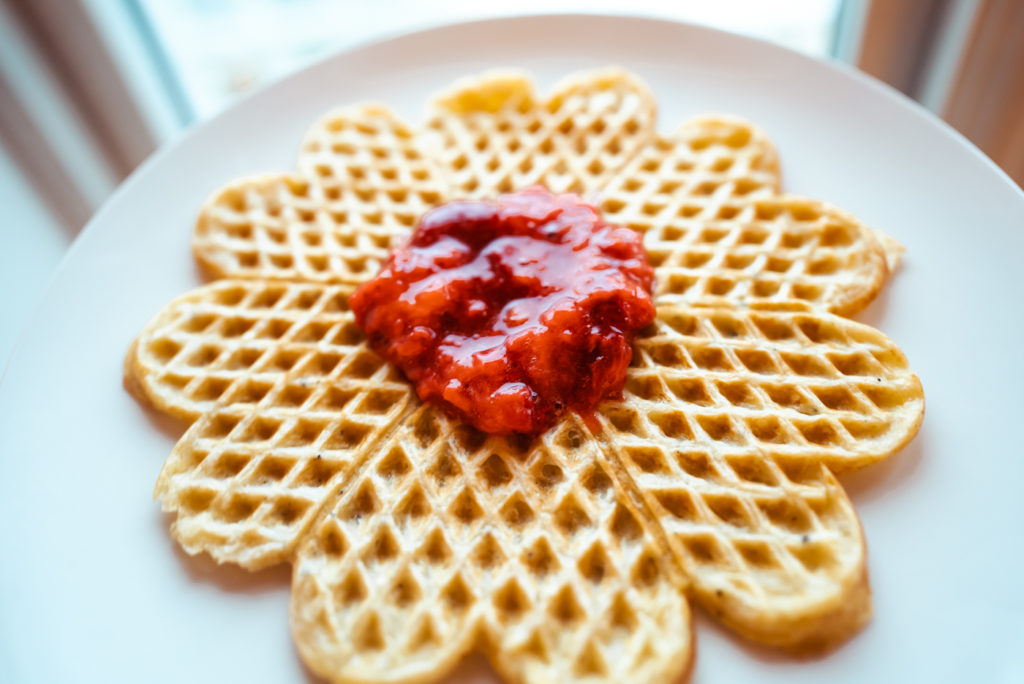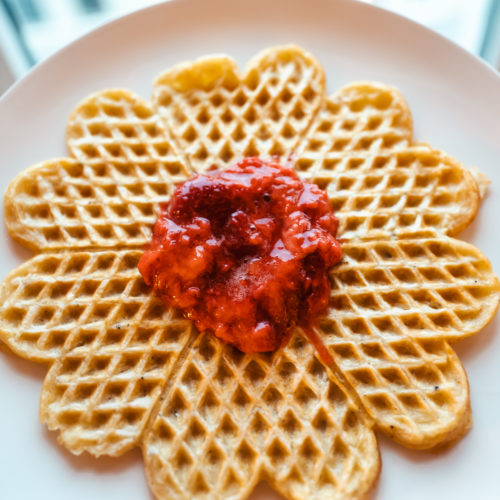 The Very Best Norwegian Waffles – Vafler
Norwegians love their waffles, and if you make these you'll understand why. These are thin and floppy and have a lovely hint of cardamom. Best served with berries or jam on top!
Print
Pin
Rate
Equipment
1 Norwegian waffle iron

1 mortar and pestal

(optional for grinding cardamom seeds)
Ingredients
3.5

tbsp

butter

2

eggs

1/4

cup

sugar

2 and 1/2

cups

milk

2

cups

flour

1/4

tsp

salt

1

tsp

cardamom

1

tsp

baking powder
Instructions
Melt the butter in a small bowl.

In a large mixing bowl, whisk together eggs and sugar.

Add half of the milk and all the flour, salt, cardamom, and baking powder. Whisk batter until it's smooth.

Add the rest of the milk and the butter to the batter. Whisk again until smooth.

Optional: let batter rest for 30 minutes.

Heat waffle iron and brush with butter each time before adding the batter. Add about 1 dipper full of batter to the iron and cook until light golden brown.
Video