Waldorfsalat – Waldorf Salad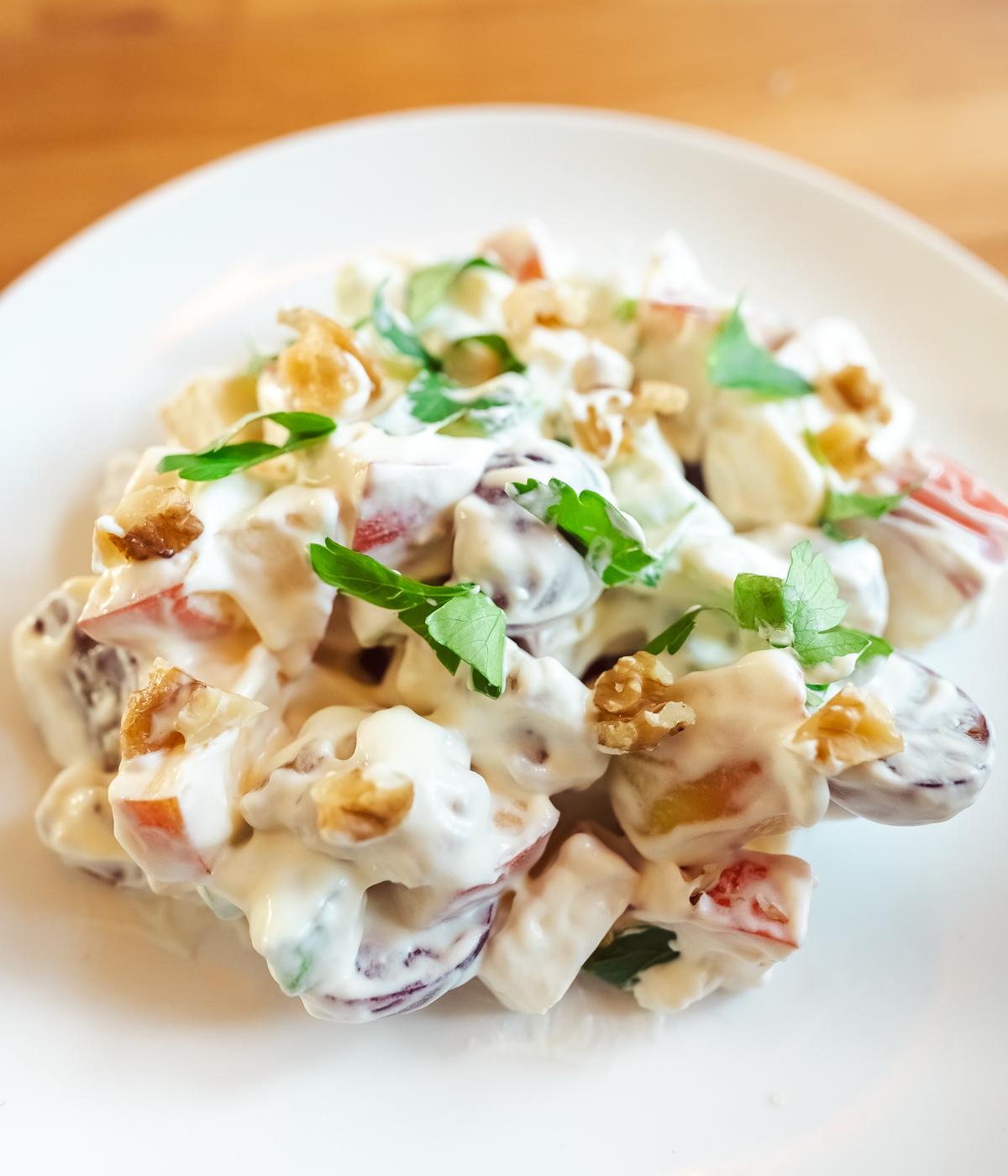 Waldorf salad, or Waldorfsalat in Norwegian, was first created by Oscar Tschirky at the Waldorf Astoria Hotel in New York in 1893, however it became so popular in Norway that I now think of it as a Norwegian dish as well. In fact I don't think I've ever eaten Waldorf salad in the US, while it's very common to eat here in Norway.
Apparently Tschirky, the original maître d'hôtel of the Waldorf Astoria Hotel, was tasked with creating a special dish for a charity ball held at the Waldor Astoria Hotel in honor of the St. Mary's Hospital for Children. The salad was an instant success and continues its popularity today.
Norwegians usually serve Waldorf salad on holidays or special occasions, most often as a side to a turkey dish. If Norwegians were to celebrate American Thanksgiving they would definitely include a Waldorf salad with their Thanksgiving spread.
Apparently the recipe for Waldorf salad has changed a lot throughout the years, and even the Waldorf Astoria Hotel's several restaurants can serve slightly different versions. The original recipe used only apples, celery, and mayonnaise. But now walnuts and grapes are Waldorf salad regulars, and the mayonnaise is mixed with whipped cream.
I'm not a huge fan of mayonnaise, but the whipped cream really lightens the flavor and creates a surprisingly delicious dressing for the fruit, celery and walnuts. At least I was surprised the first time I had Waldorf salad. Then again, I was a young child and couldn't believe the grown ups were calling this delicious dessert a salad.
And ever since that first bite I've been so excited every time I find myself at a dinner wear Waldorf salad is on the menu. This may also have something to do with Waldorf salad being a dish for celebrations in Norway. When you're eating Waldorf salad you know it's a special day.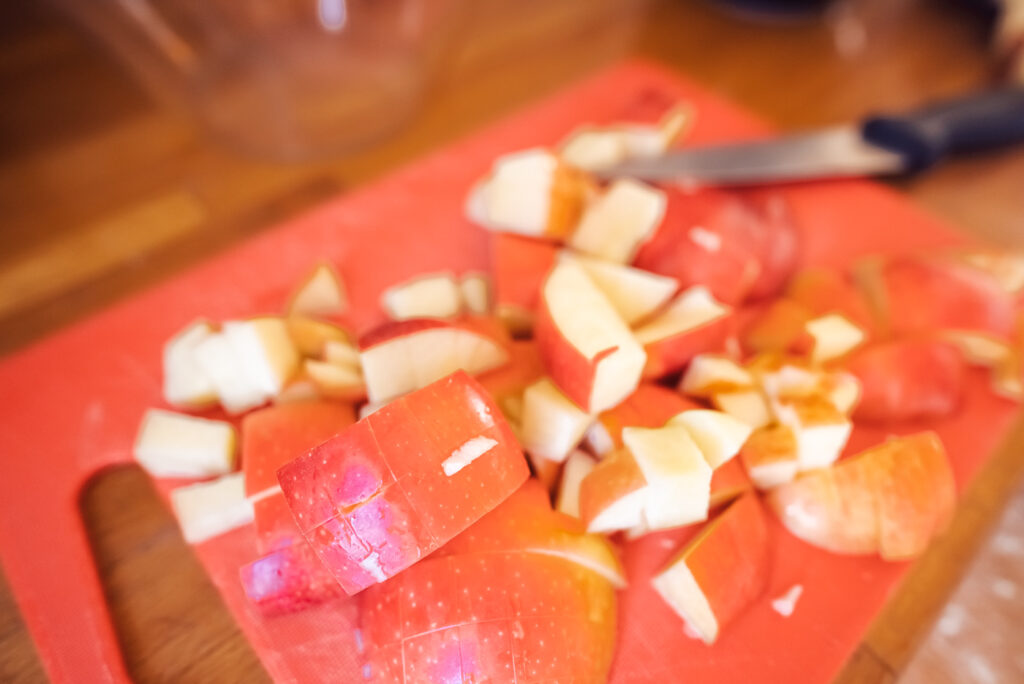 I've seen some people slice the apples into thin slices instead of cubes for their Waldorfsalat – do whichever you prefer! Personally I think cubed apple works better with the texture of the grapes and celery, as well as the nuts. It's also easier to eat than apple slices.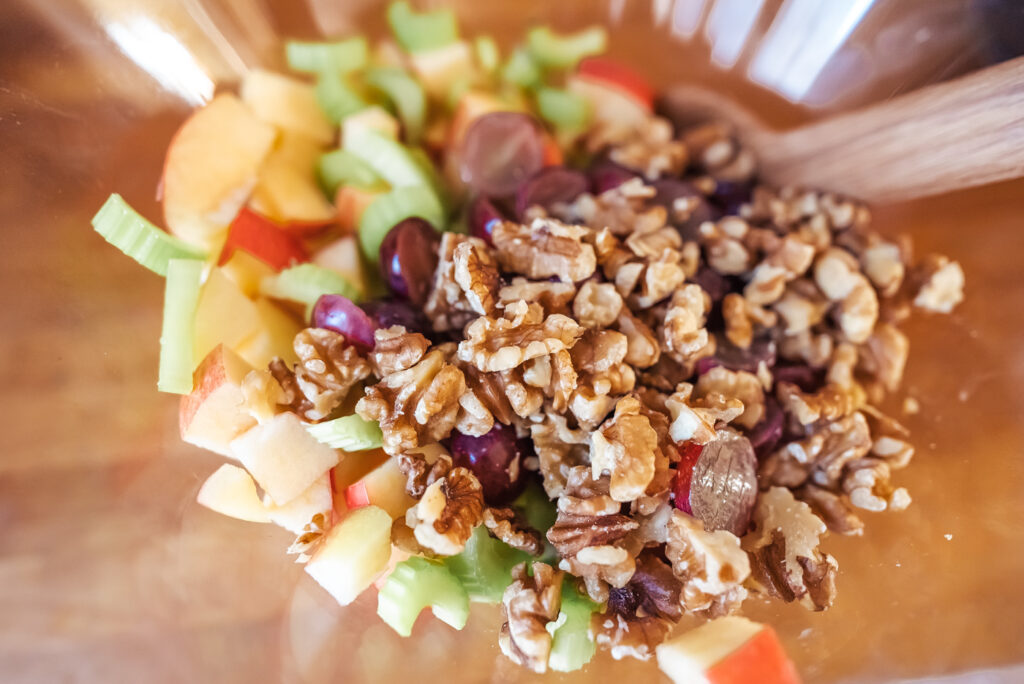 You can set aside some grapes and chopped walnuts for garnish. I simply top the salad with chopped walnuts and fresh parsley. The parsley adds a really nice flavor to the salad.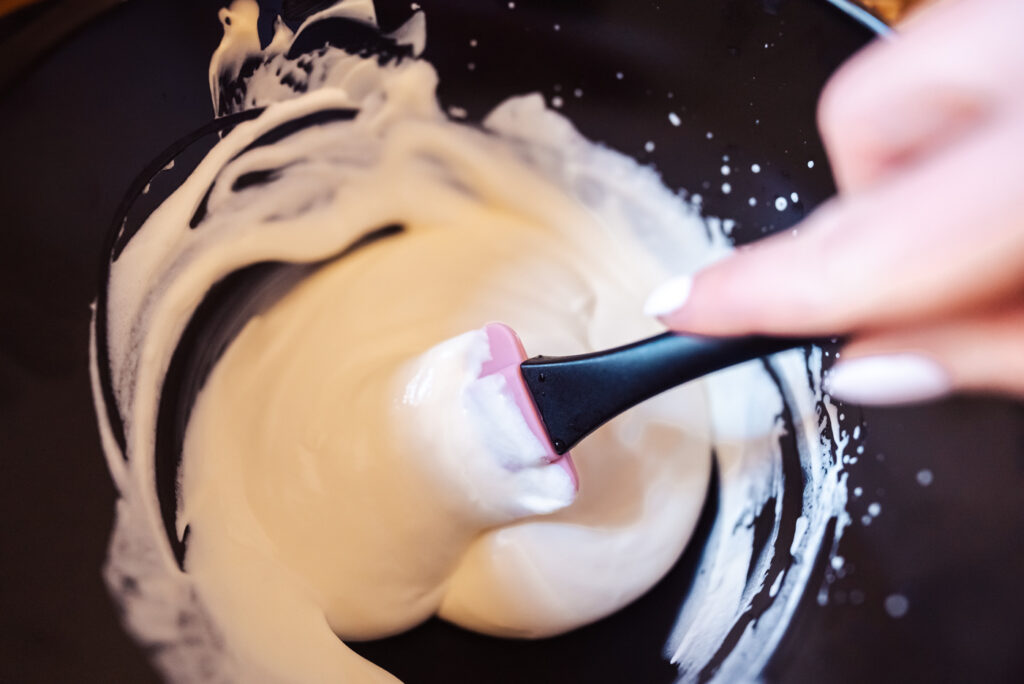 While this dressing calls for equal parts mayonnaise and cream, you can also of course adjust the proportions until you get the flavor you like best. If anything I like to have a bit more cream than mayonnaise.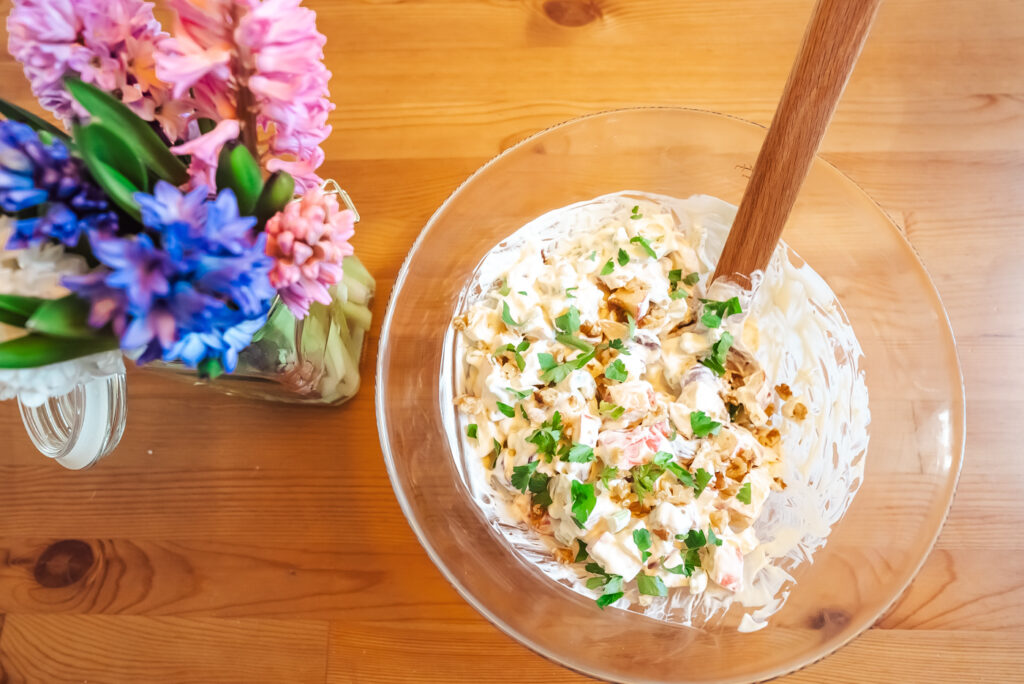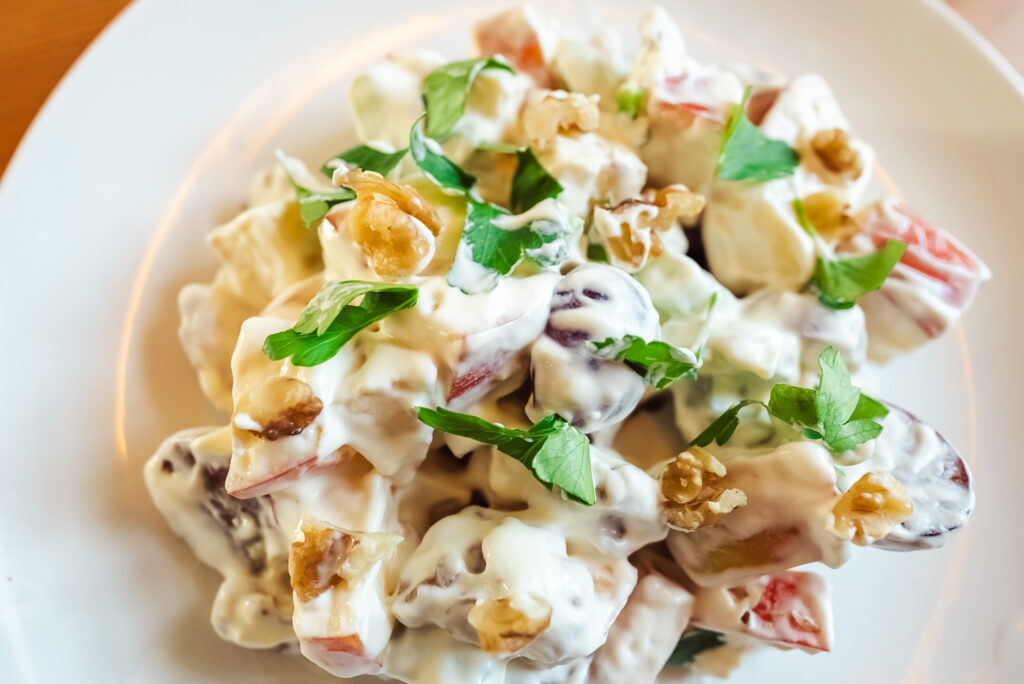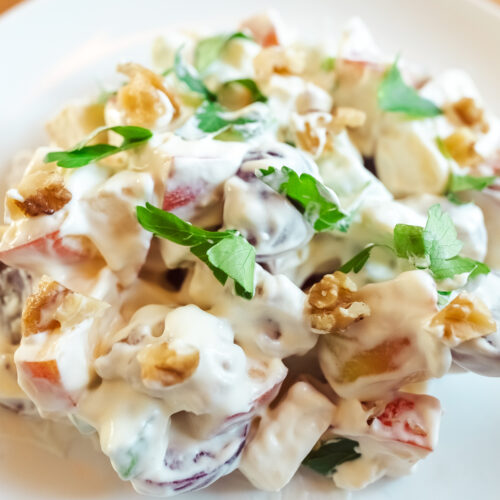 Waldorfsalat – Waldorf Salad
This fruit and walnut salad tossed in a whipped cream and mayonnaise dressing is a Norwegian favorite, especially for holidays and special occasions.
Print
Pin
Rate
Ingredients
3

red apples

2

tsp

lemon juice

3

stalks

celery

250

g

grapes

200

ml

walnuts

150

ml

whipping cream

1

pinch

sugar

150

ml

mayonnaise

fresh parsley

(garnish)
Instructions
Cut the apples into small cubes and put in a serving bowl. Add the lemon juice and toss.

Cut the celery into thin slices and cut the grapes in half. Chop the walnuts (you can set aside some for garnish). Add to the serving bowl.

In a mixing bowl, whip the cream and sugar. Carefully fold in the mayonnaise. Add the dressing to the serving bowl and stir everything together.

Top with chopped walnuts and fresh parsley.
Video