Semolina Porridge (Semulegrøt)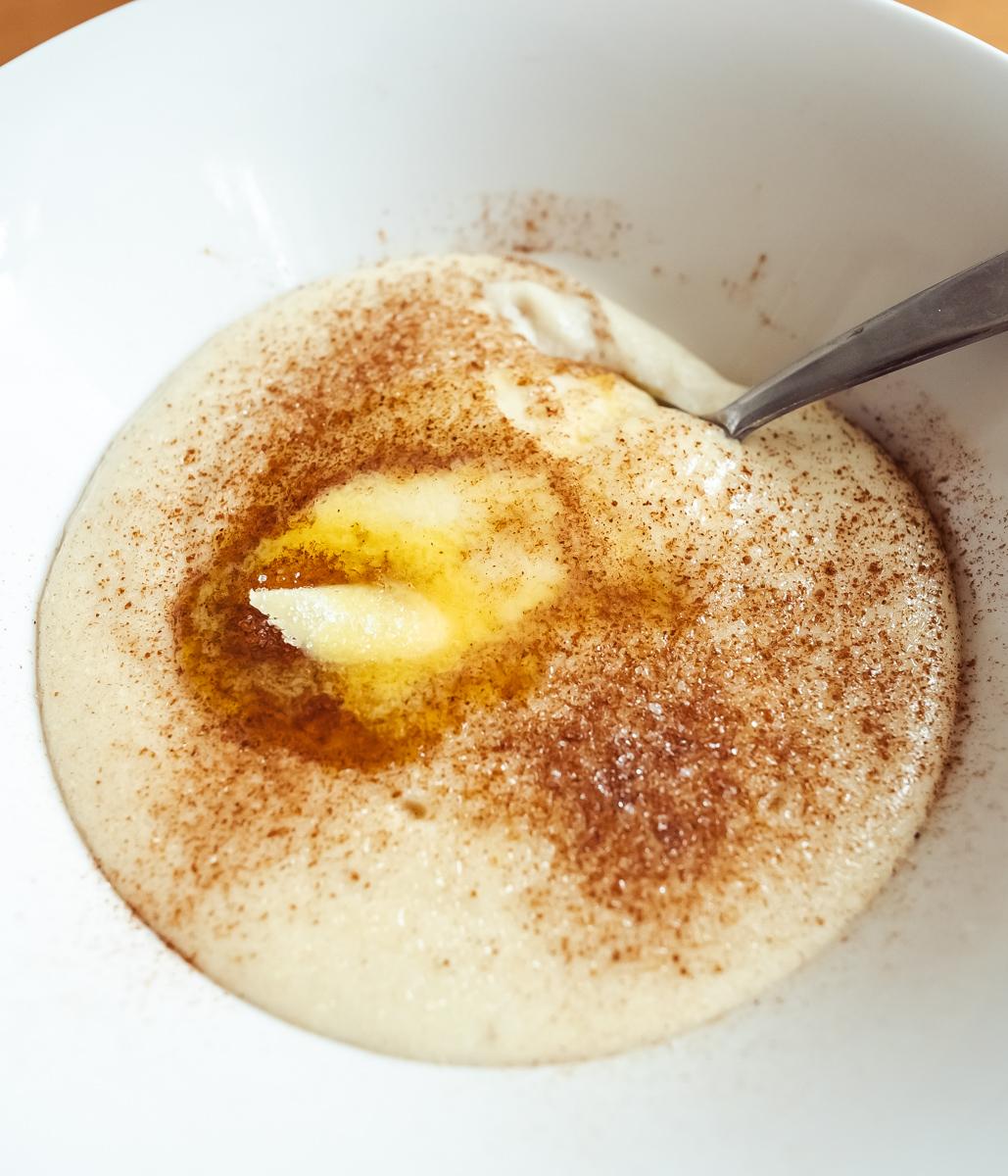 After making Telemark lefse I still had a lot of semolina left over, and my first thought was that I should make semolina porridge (semulegrynsgrøt or simply semulegrøt in Norwegian).
Norwegians love their porridge, which I guess makes sense for a cold country. Apparently at one point Norwegians used to eat more porridge than bread. You'll see lots of different kinds of porridge in Norway, including rice porridge and sour cream porridge, which are more common on special occasions, and then of course oatmeal. But a favorite for a lot of people here is definitely semolina porridge.
In fact when I mentioned to my mom that I was going to make semulegrøt her eyes lit up and she started talking about how much she loves semulegrøt, and how she first made it as a child in school. And then my friend Lisa had the same reaction when I mentioned it to her, saying how her grandmother used to make it for her as a child.
And it makes sense why children especially love this porridge, as semulegrynsgrøt is perfectly smooth and mild in flavor (compared to rømmegrøt, or sour cream porridge) and easy to eat. I've usually had this as an afternoon or evening meal, though lately I've also been whipping up a bit of semolina porridge as a quick and easy dessert after dinner. Or you could have it for breakfast!
There are different ways to make this porridge, but I find the easiest method is to heat up the milk first and then whisk in the semolina. Just be sure to keep whisking as you pour in the semolina so you don't get any lumps.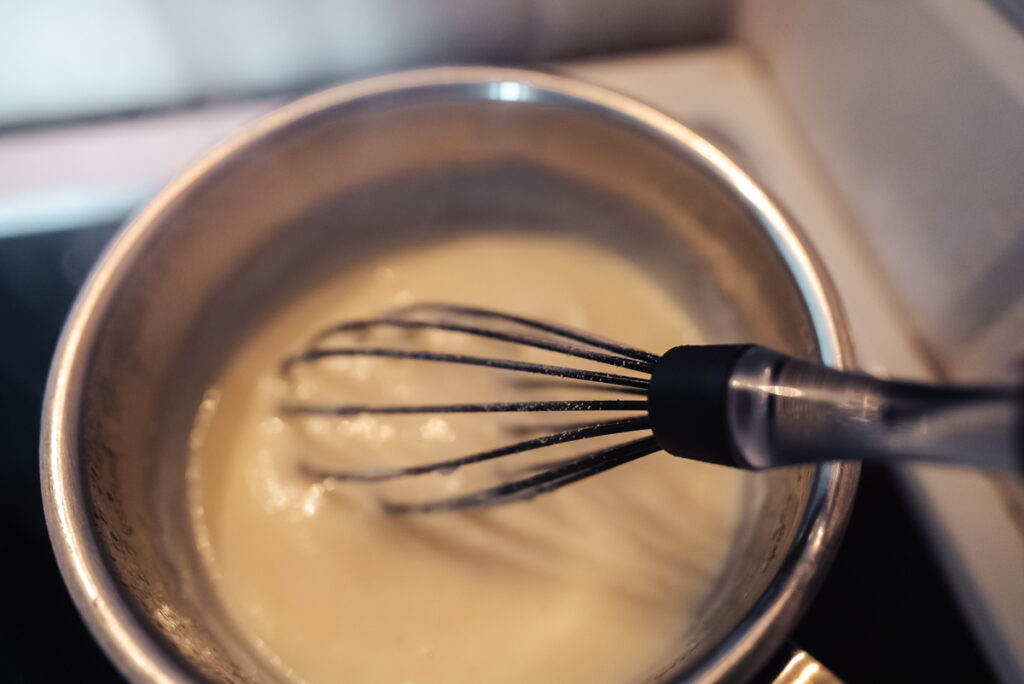 Traditionally Norwegians will top semulegrøt with cinnamon, sugar and a bit of butter, or with raspberry sauce. You could heat up some frozen berries for this, or add berry jam. I've also seen some people eat a savory version with salt and cured meat. You can also add raisins to the porridge if you like – I recommend adding them at the start when heating up the milk.
I like vanilla in my semolina porridge, but you can use almond extract instead if you prefer. I also prefer mine with brown sugar, but many people use white granulated sugar instead.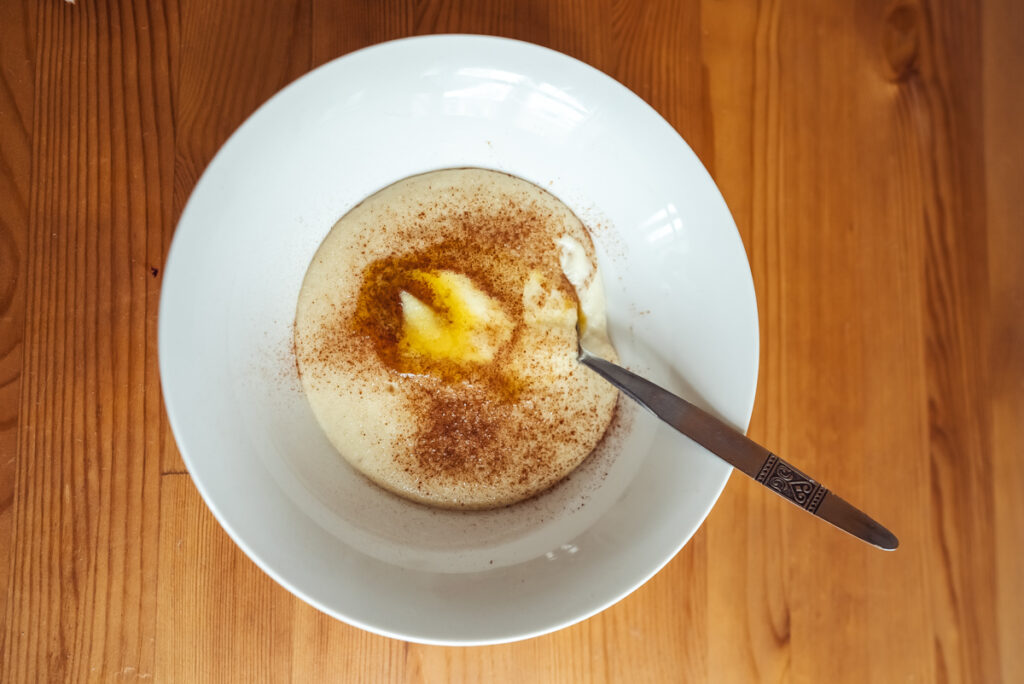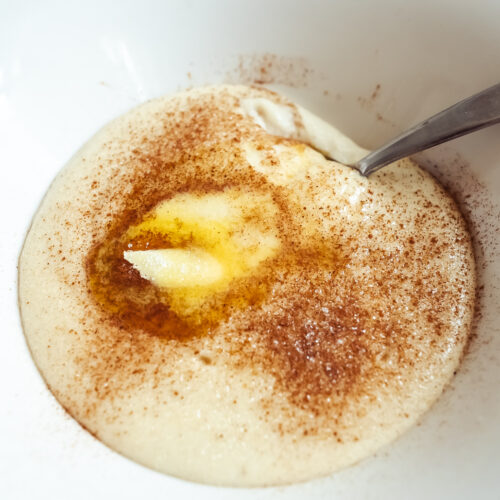 Ingredients
2

tbsp

butter

1

liter

milk

150

ml

semolina

2

tbsp

brown sugar

(optional)

1

pinch

salt

1

tsp

vanilla sugar

(or vanilla extract)

cinnamon

(for serving)
Instructions
Melt the butter in a saucepan. Add the milk and bring to a boil.

Reduce the heat and slowly pour in the semolina, whisking the entire time. Let simmer for about 10 minutes.

Add sugar, salt and vanilla.

Remove from heat and serve in a bowl. Add your preffered topping (eg. a bit of butter, sugar and cinnamon, or raspberry sauce).
Video