Norwegian Pancakes With Smoked Salmon (+ Other Fillings)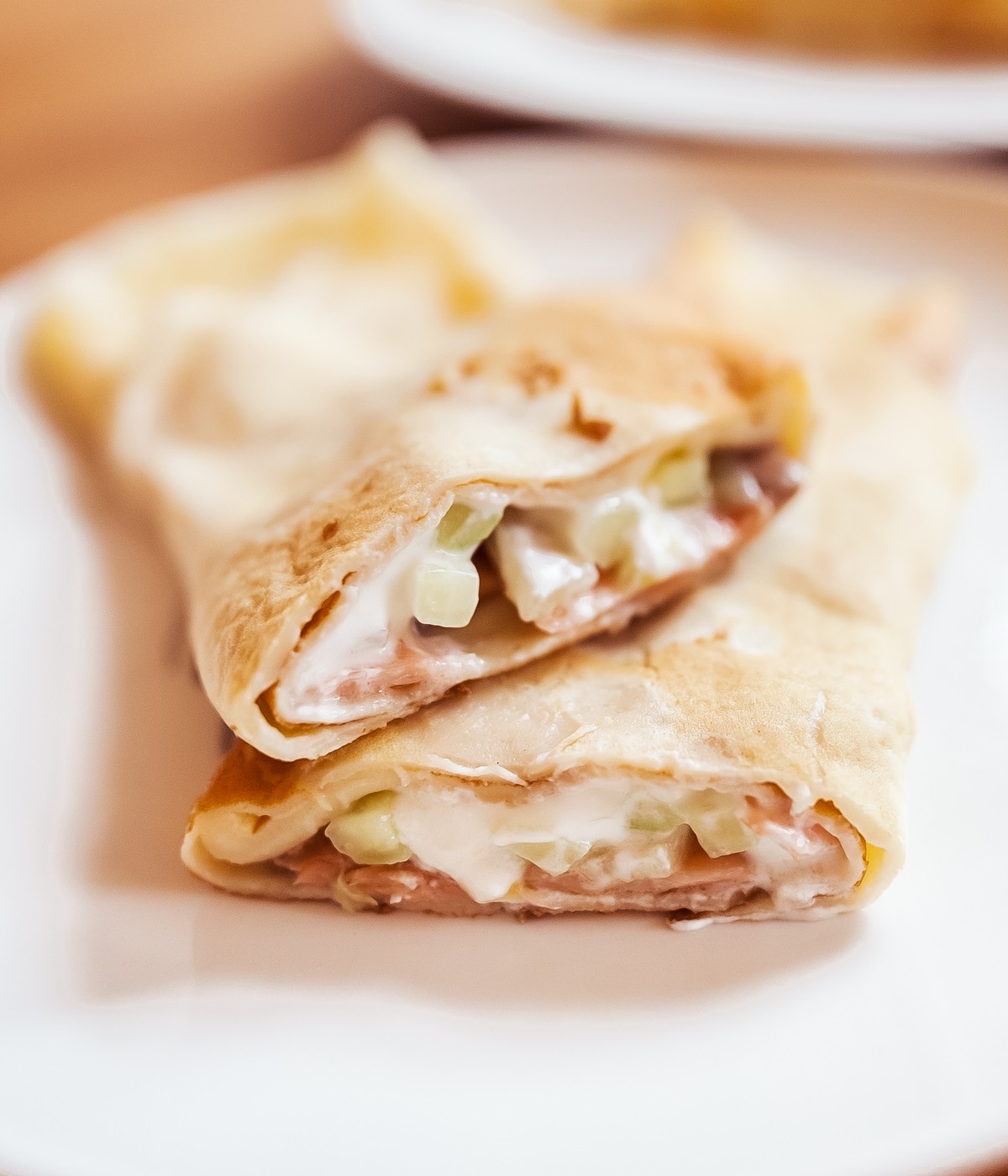 Norwegians make a lot of different kinds of pancakes, but probably my favorite are their thin and eggy, crepe-like pancakes. These are incredibly versatile and can be filled with all sorts of different things. They can be served sweet for dessert, or savory.
While I'm usually more of a Norwegian waffle person, these pancakes are a bit easier than waffles, plus I'd often rather clean a pan than a waffle iron. I like to make these when I don't have any fresh bread for lunch, or when I'm in the mood for something sweet.
When I made this batch I actually made the first half savory, and then I added a tablespoon of sugar and a teaspoon of cardamom to the batter to make a few dessert pancakes as well. You could also add a bit of cinnamon if you like.
Ingrid has a few suggestions for pancake fillings in Den Rutete Kokeboken:
shrimp, chopped dill and mayonaise
smoked salmon, whipped cream, salt, grated horseradish
smoked ham, finely cut leek, sour cream
sliced mushrooms fried in butter
fresh berries or berry jam
I just used what I already had in my fridge for this batch. For the savory portion I filled the pancakes with smoked salmon and cucumber, topped with sour cream and a bit of dill. And they turned out so good! I saved a couple for lunch the next day and they kept well – I simply reheated the rolled pancake in a pan.
I've also made these with chives instead of dill and they were even better.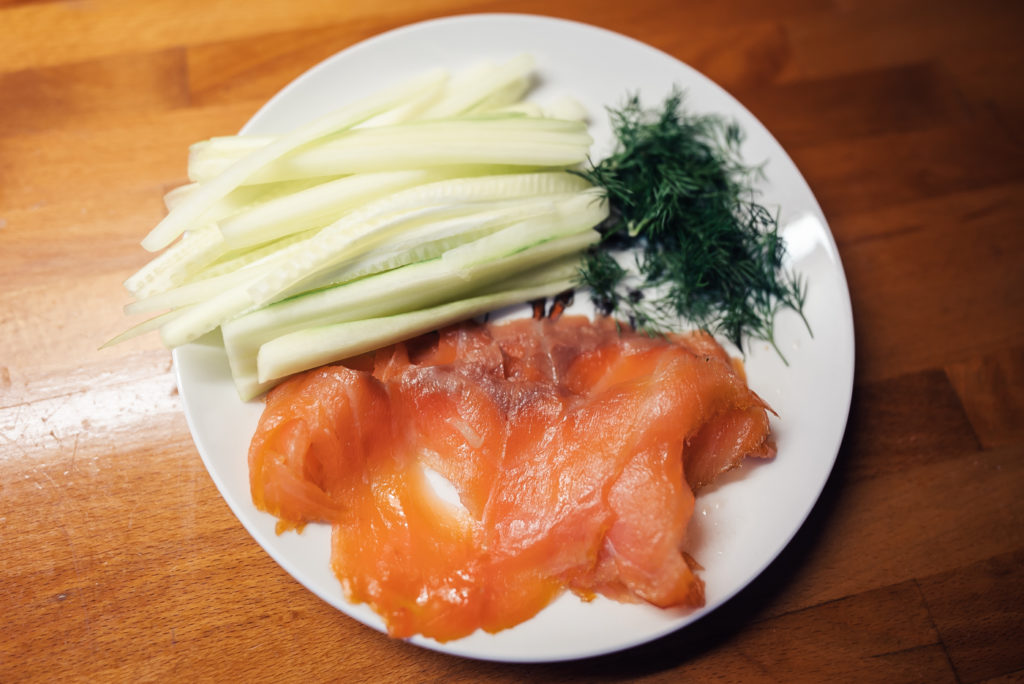 There are two ways to cook these pancakes. The easiest way is to cook them on one side, and when the top has hardened and the bottom is golden brown, add the filling in a thick stripe at the center of the pancake and then roll or fold the pancake together. This is what I did when with the salmon and cucumber filling.
There's butter in the batter, so you only need to add a little bit of butter to the pan when you make the first pancake. After that you don't need to continue adding butter to the pan.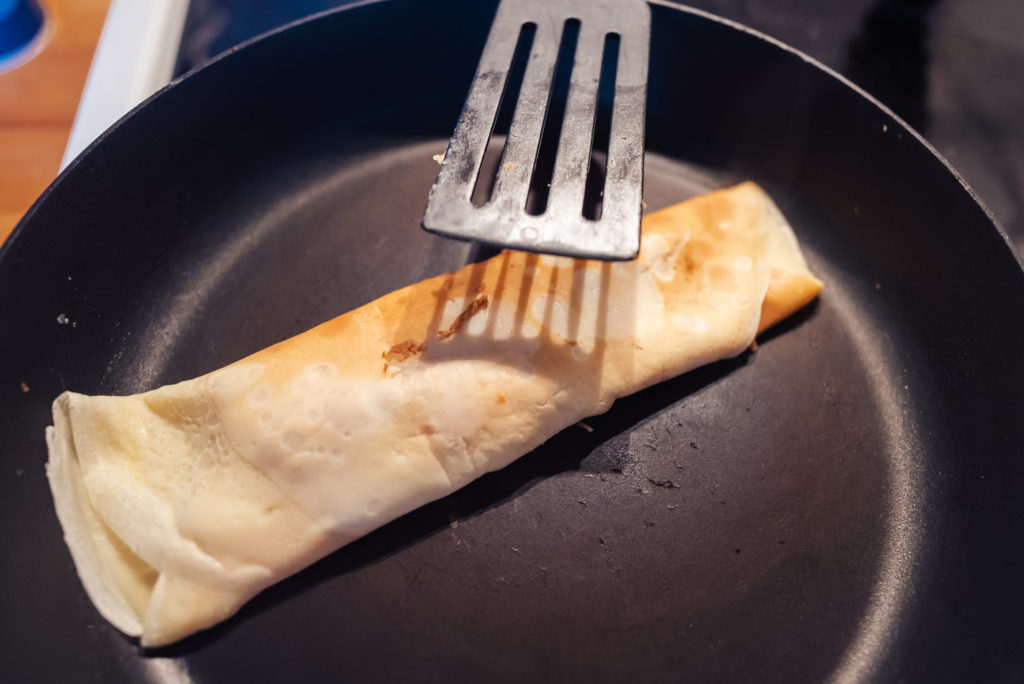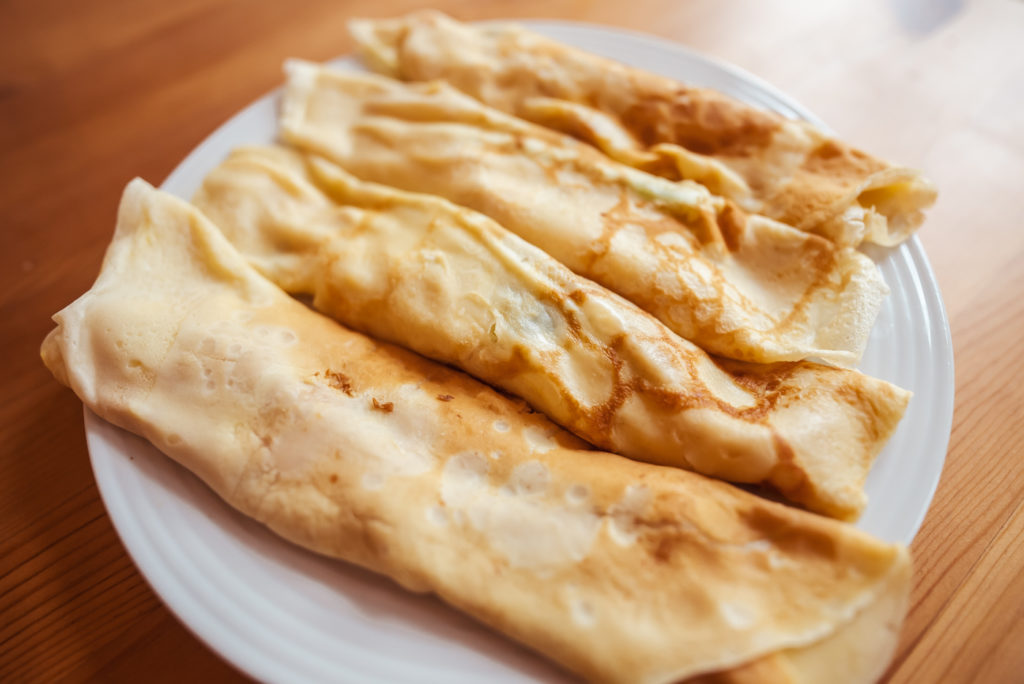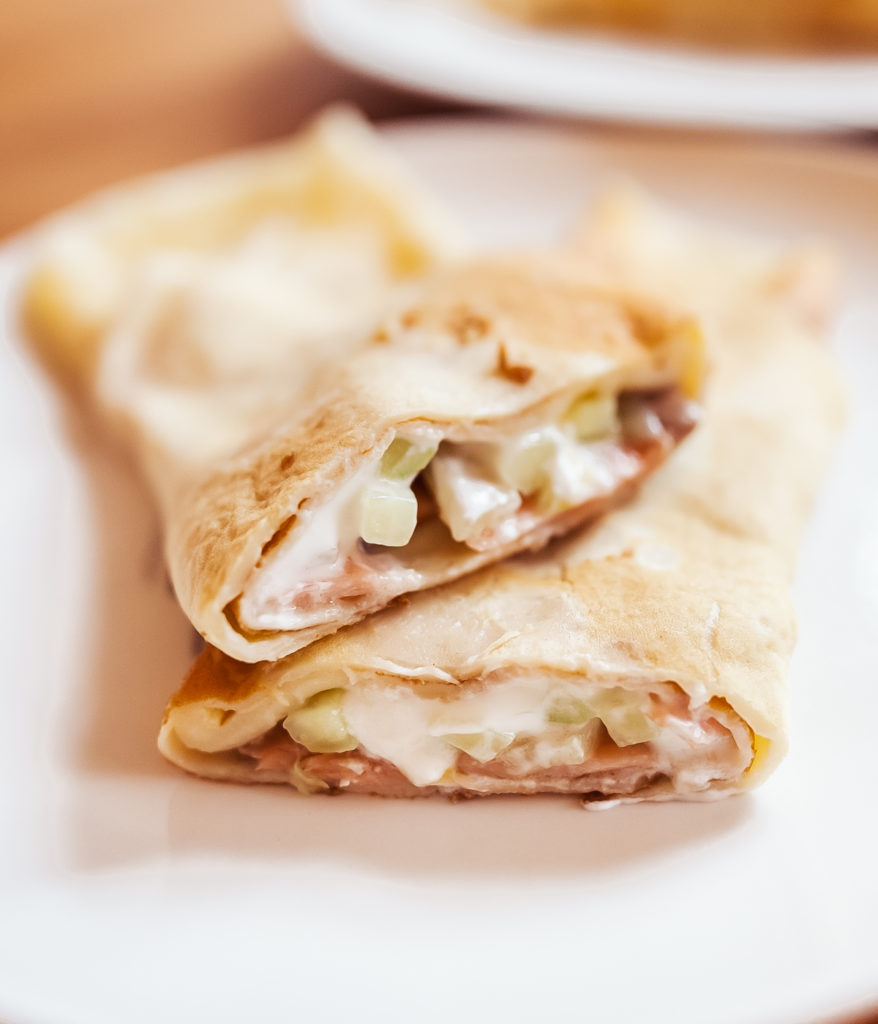 If you want to fill the pancakes later, you'll need to cook them on both sides. This can be a bit tricky if they're large, but if you cook them long enough on the first side they should flip quite easily. Ingrid also recommends putting a strip of baking paper between each finished pancake when stacking them so they're easy to separate later.
I did this with the sweet batch, so I could have them later with strawberry jam.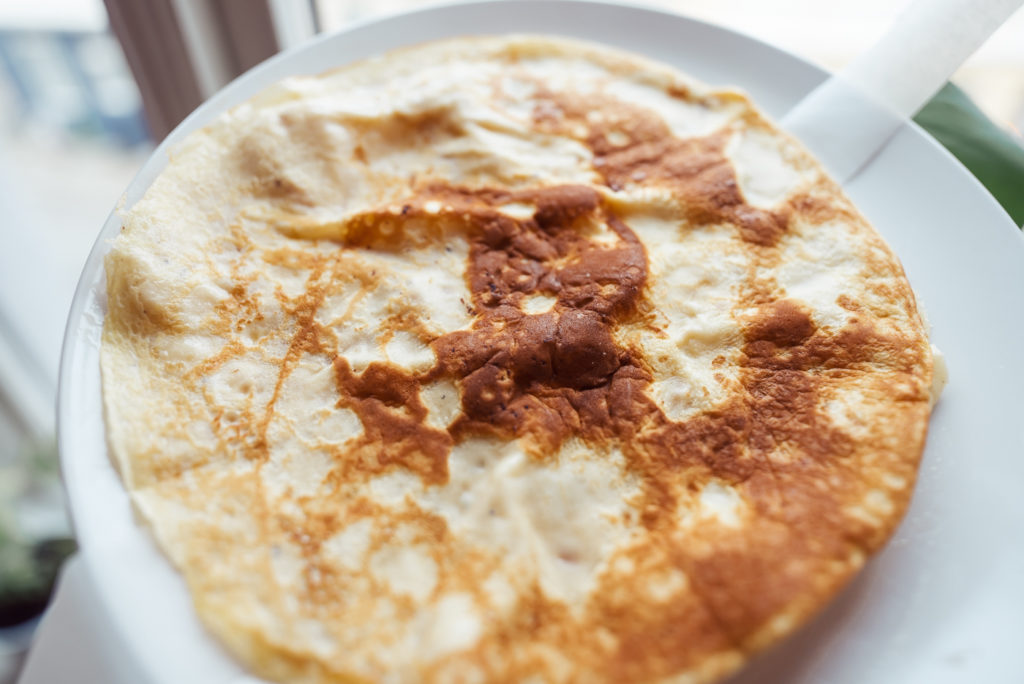 Norwegian Pancakes with Salmon (+ other fillings)
These are thin Norwegian pancakes with a lot of eggs in the batter. They can be served warm or cold. as an appetizer, main course, or dessert. If you cook them in a 5 – 6 inch (14 cm) pan, this recipe will yield about 15 small pancakes.
Print
Pin
Rate
Ingredients
3

eggs

2 and 1/2

cups

milk

3/4

cup

flour

1/2

tsp

salt

1

tbsp

butter
For sweet pancakes
1

tbsp

sugar

1

tsp

cardamom
Instructions
Pour half of the milk in a bowl. Add the egg, salt, and all of the flour. Stir until there are no clumps.

Add the rest of the milk and stir again.

Melt the butter and stir it into the batter.

Let the batter rest for 30 minutes.

Heat a pan on medium heat and add a little bit of butter. You only need to add butter before the first pancake.

When the butter is light brown, add batter to the pan and tilt pan around until the entire pan is covered in batter. The amount of batter needed depends on the size of your pan.

If filling the pancakes now, cook until the top hardens and the bottom is golden. Add a thick stripe of filling along the center, and then roll or fold the pancake before removing from the pan.

If filling the pancakes later, flip the pancake to cook until golden on both sides.
Video