Brun Lapskaus: Norwegian Beef & Vegetable Root Stew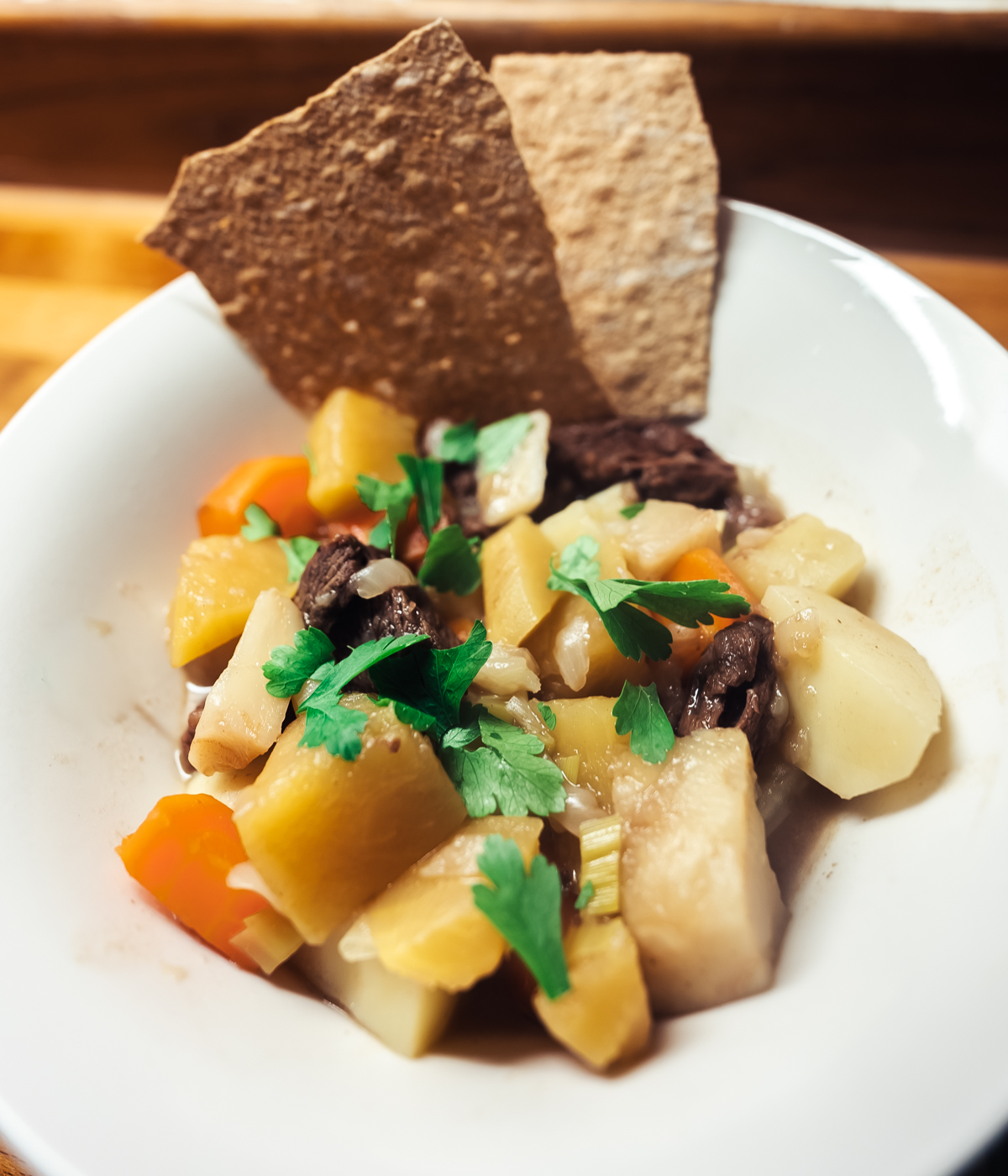 Lapskaus is secretly one of my favorite Norwegian dishes. I say secretly, because I suspect that lapskaus might be considered old man's food. At least, when I worked in a supermarket our kitchen would make lapskaus, and it always seemed to be the older, single male farmers who would buy lapskaus for lunch or dinner.
Okay Google just confirmed my suspicions. Though it was actually fishermen, not farmers, who first brought lapskaus to Norway.
And if lapskaus sounds familiar, you might also be thinking of lobskause, which allegedly was brought to Liverpool by Scandinavian sailors, and is the reason behind the nickname Scouser, used for people from Liverpool. Though the Internet is divided on where lapskaus actually originates – I guess those sailers were traveling all over Europe.
But history aside, I truly believe if you make lapskaus you will love it too. It is so incredibly flavorful, and cosy, and just wonderful in every way. Maybe the perfect dish to make on a dreary winter's day? It's also one of the most Norwegian dishes I can think of, so if you're a fan of Norway or Scandinavia this should definitely be part of your repertoire.
I also love that while lapskaus begins with meat, the real star here is the vegetables, as they should be. In fact if you prefer, you can leave out the meat altogether for a vegetable lapskaus.
The two main types of lapskaus are lys (light) lapskaus, and brun (brown) lapskaus. Lys lapskaus is usually made with pork, but sometimes beef, and the meat is cooked in the broth. With brun lapskaus the meat is browned in a pan before adding the stock.
I'm a huge fan of root vegetables, and while sometimes they can overpower a dish, lapskaus features enough strongly flavored roots to balance each other in a delicious way. But don't worry too much if you can't find all the vegetables listed in the recipe – there are so many different versions of lapskaus using different vegetables. Choose the ones you love and have available.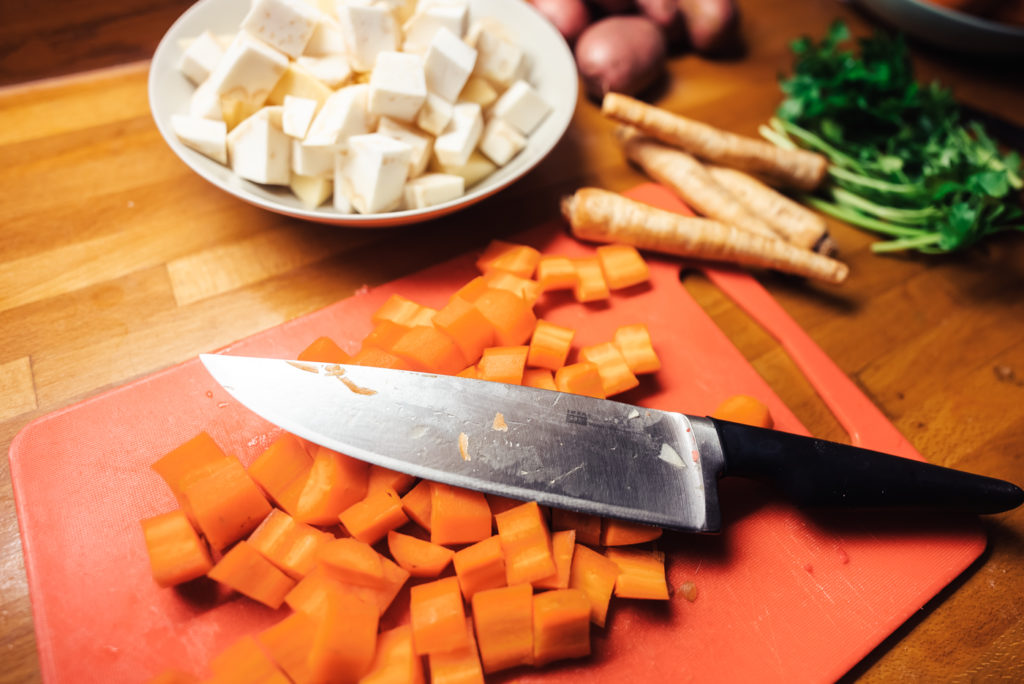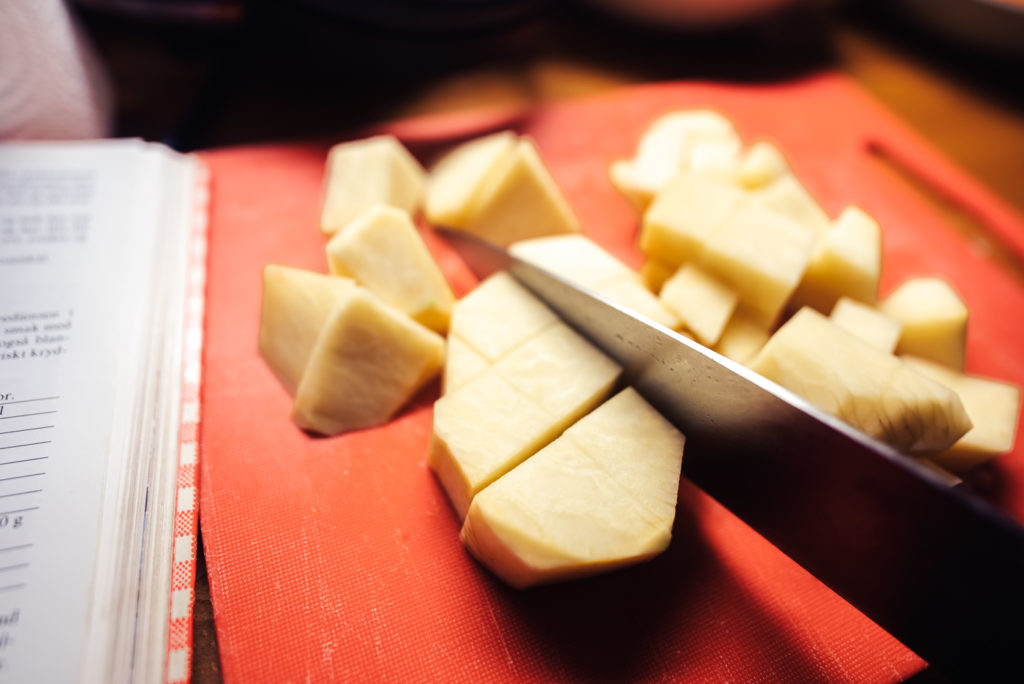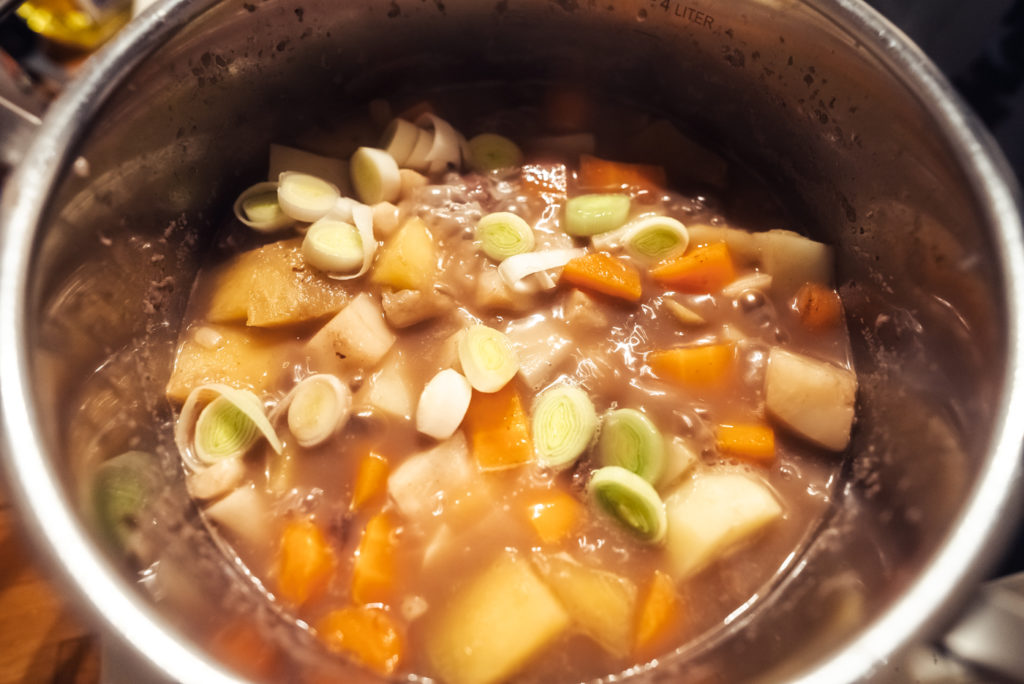 You can add extra water to the lapskaus if you want a lot of broth. I usually eat it with just a bit of broth at the bottom of the bowl. Again, there are so many different variations here. Some people prefer barely any broth, while others make it more like a soup, and others opt for a really thick stew. If you want to thicken the broth you can also add a couple of tablespoons of flour to the browned meat before adding the stock.
Norwegians traditionally eat lapskaus with buttered flatbrød, or flatbread, which is paper thin. Something like this would work too.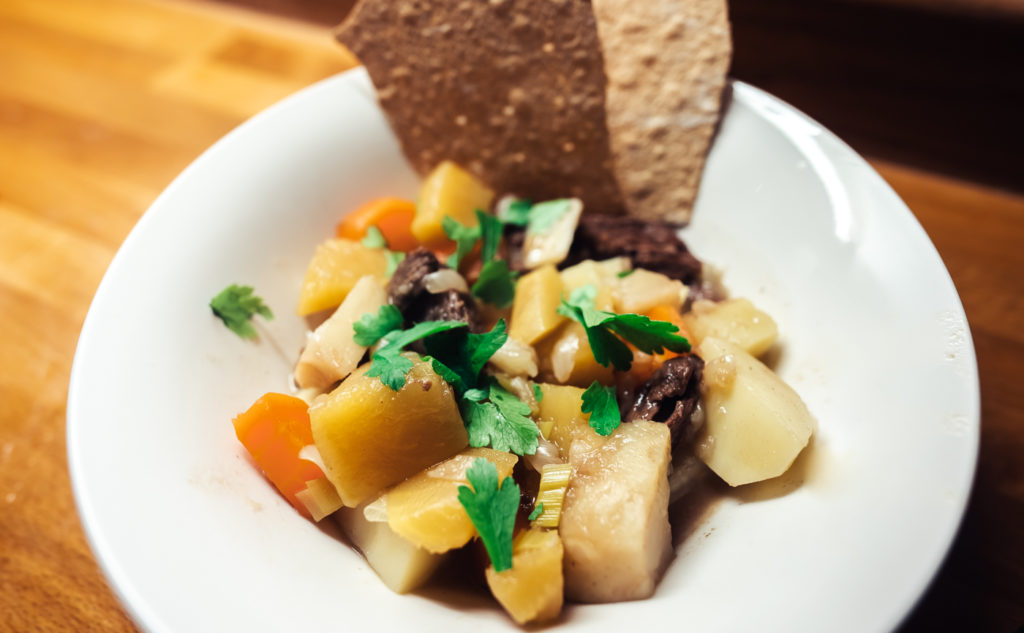 And this is one of those dishes that is even better the next day (and day after that), so aim for leftovers!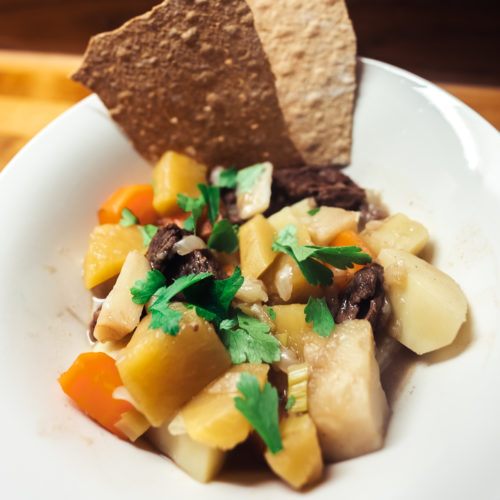 Brun Lapskaus (Norwegian Beef + Vegetable Stew)
Lapskaus is a traditional Norwegian stew, usually made with beef and root vegetables. It tastes even better the next day!
Print
Pin
Rate
Ingredients
2

tbsp

olive oil

1 and 3/4

lbs

beef (stew quality – I used chuck steak)

1

onion

3

cups

beef stock

1

small rutabaga

1

celery root

4

carrots

4

parsley roots

1

lb

potatoes

1/2

leek

fresh parsley

(garnish)
Instructions
Heat olive oil in a large pot. Cut beef into 1 inch (2.5 cm) cubes and brown in oil.

Dice the onion and add to browning beef. Add the stock and bring to a boil, then lower the heat, cover, and let simmer for about 30 minutes.

Peel and cut the rutabaga and celery root into 1 inch (2.5 cm) cubes. Add to the pot, cover, and continue simmering for another 30 minutes.

Peel and chop the rest of the vegetables into 1 inch (2.5 cm) cubes and add to the pot. Slice the leek into rings. Cover and continue simmering for about 20 minutes. Stir as little as possible.
Video